Connemara is the area of Western Galway & South Mayo bounded by the Atlantic & Lough Corrib. It is an area beloved by
artists & poets who find magical inspiration in its wide open bogs & its towering cloud capped mountains. Cottages nestle into hillsides where wild looking sheep with thick fleeces & great curling horns freely graze.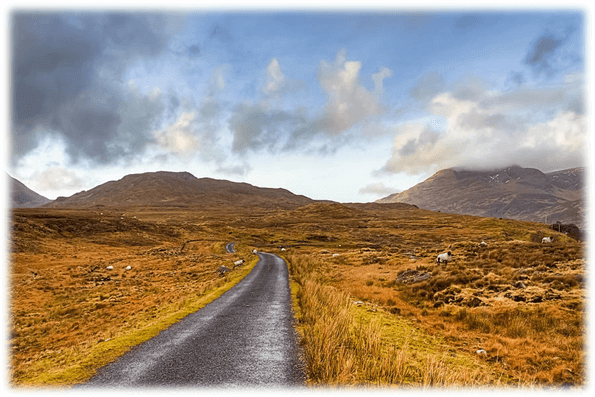 The rugged coastline is punctuated with little fishing villages, where you will see the traditional canvas built currachs & black hulled Galway Hookers moored beside the lobster pot strewn piers. Visit the Duc de Stacpoole at the Roundstone Art Gallery.Dog's Bay Beach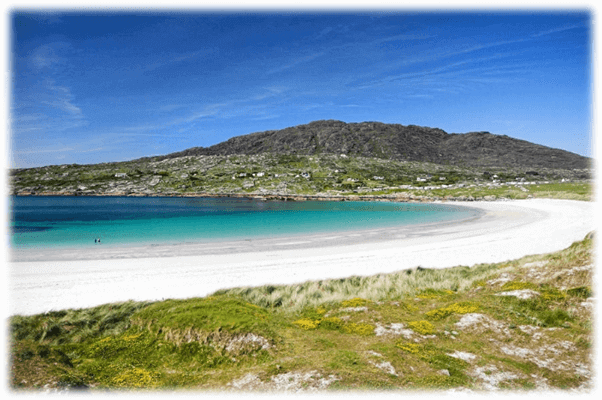 Lying back to back, Dogs Bay and Gurteen Bay are two of the most beautiful beaches in County Galway and probably in the West of Ireland. They are situated only 2 miles outside the picturesque village of Roundstone in Connemara, Co. Galway. Dogs Bay and Gurteen Bay make up one of the finest stretches of coastline in Connemara, offering uncompromising views of Errisbeg and the surrounding countryside.
Dogs Bay is a spectacular horseshoe shaped bay with more than a mile long stretch of white sandy beach. Similar to Gurteen Bay, the sand is not comprised of traditional limestone but rather made entirely of fragments of seashells which give it a pure white colour.
Both beaches are well sheltered from currents and are considered safe for swimming and other watersports such as windsurfing and kitesurfing. They are also wonderful destinations for walking.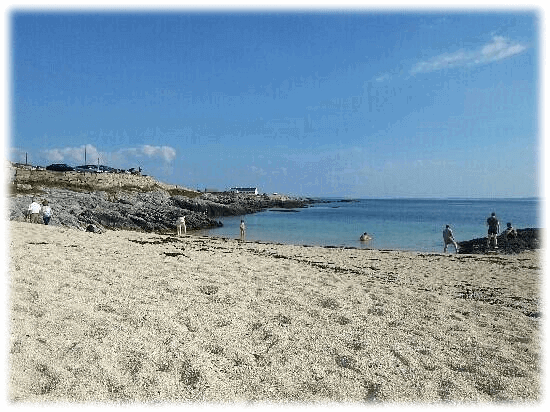 Carraroe beach, which is also known as Trá an Dóilin is an area of great natural beauty. The beach is noted for its very fine coral. The beach is lifeguarded and has toilets throughout the bathing season. There are lots of little rock pools to explore along with good snorkling and is usually less busy that the city beaches.

Clifden today is a vibrant and cosmopolitan town on the very edge of Europe. It has a population of 2,609 but the hinterland which it serves as the administrative and economic capital to has almost 10,000 inhabitants (source; Census 2011). The town known as the "Capital of Connemara" boasts a thriving tourism industry as its unique and picturesque setting between the foothills of the Twelve Bens and the Atlantic Ocean attracts thousands of visitors annually.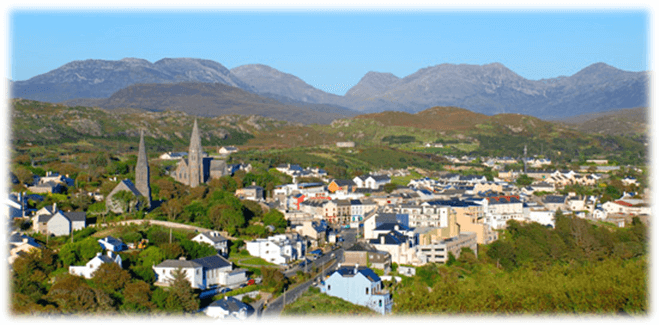 The town skyline continues to be dominated by the twin spires of the two churches, St Joseph's Catholic Church and Christ Church of Ireland. Although the principal religion in the area is catholic there is a significant protestant tradition in west Connemara served by the Clifden church. Music and the arts continue to be celebrated in Clifden. Traditional Irish music and song have long been associated with Connemara and Clifden still rings to the sound of our own traditional music and culture throughout the year but in particular during the busy tourist season. The town boasts the longest running community arts festival in Ireland each September when the Clifden community arts week has its annual celebration of all that is wonderful in culture and the arts in the area.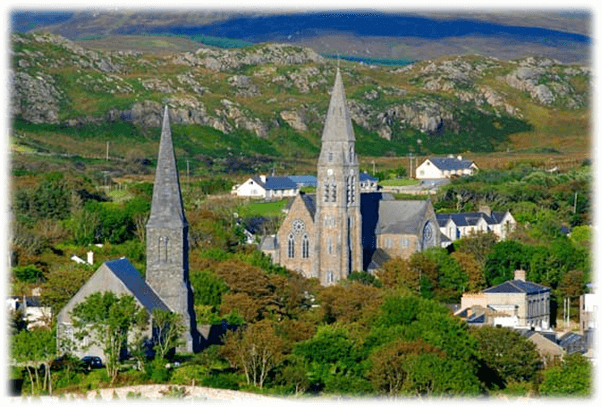 Clifden has come a long way since its embryonic days in 1812. Today it represents all that is good about life in the west of Ireland, good food, good friends and good craic. Thousands of visitors each year stroll around its streets, sampling the local cuisine, exploring the many local shops and generally relaxing in the very convivial atmosphere for which Clifden is renowned. Although the weather cannot always be guaranteed, what is certain is that the Clifden will leave the weary traveller, relaxed, rejuvenated and eager to return again.
Kylemore Abbey and Victorian Walled Garden, just one hour from Galway is one of Ireland's top tourist attractions. Kylemore Castle was built in the late 1800s by Mitchell Henry MP, a wealthy business man and liberal politician. Inspired by his love for his wife Margaret, and his hopes for his beloved Ireland, Henry created an estate boasting 'all the innovations of the modern age'. An enlightened landlord and vocal advocate of the Irish people, Henry poured his life's energy into creating an estate that would showcase what could be achieved in the remote wilds of Connemara. Today Kylemore Abbey is owned and run by the Benedictine community who have been in residence here since 1920.Come to Kylemore and experience woodland and lake shore walks, magnificent buildings and Ireland's largest Walled Garden! Enjoy wholesome food and delicious home-baking in our Café or Garden Tea House. History talks take place three times a day in the Abbey and tours of the Walled Garden take place throughout the summer. Browse our Craft and Design Shop for unique gifts including Kylemore Abbey Pottery and award winning chocolates handmade by the Benedictine nuns. Discover the beauty, history and romance of Ireland's most intriguing estate in the heart of the Connemara countryside.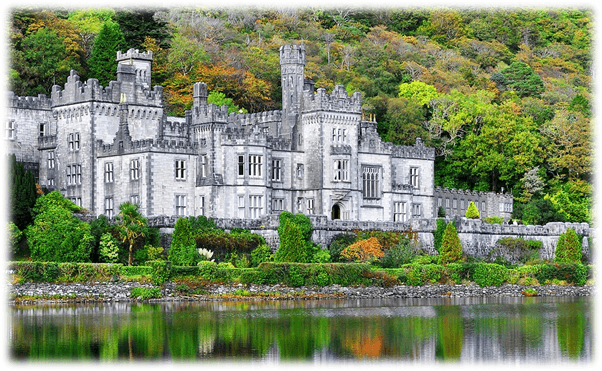 Ashford Castle provides a romantic backdrop in superior surrounds, offering guests both relaxation and comfort. There are many opportunities to explore the vast estate with fishing on Lough Corrib, equestrian pursuits, golf, falconry and trail walking. Or simply relax in our luxurious interiors and enjoy your favourite novel or pamper yourself with treatments from beauty therapists.

The Castle has welcomed and entertained its fair share of celebrities and public figures over the years. Members of Europe's royal families, political figures, industrialists and film stars have all enjoyed the hospitality of the castle.
Ashford Castle has an unsurpassed reputation for providing guests with the very finest rooms and suites. Each guest room is individually designed to provide stylish personal comforts, from the marble fittings of bathrooms to sumptuous co-ordinated fabrics and furnishings. Many of the rooms retain their original features and all are equipped with modern amenities.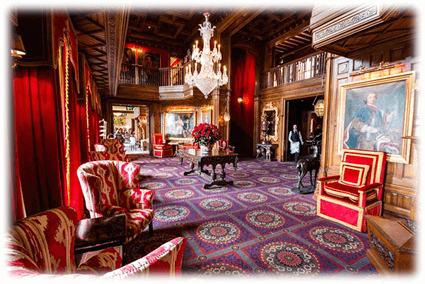 Ashford Castle offers guests an abundance of activities to enjoy in true spirit of a resort property. From the combination of pusuits involving physical exercise to the more relaxed beauty treatments, we will attempt to ensure you leave Ashford refreshed, relaxed and replenished.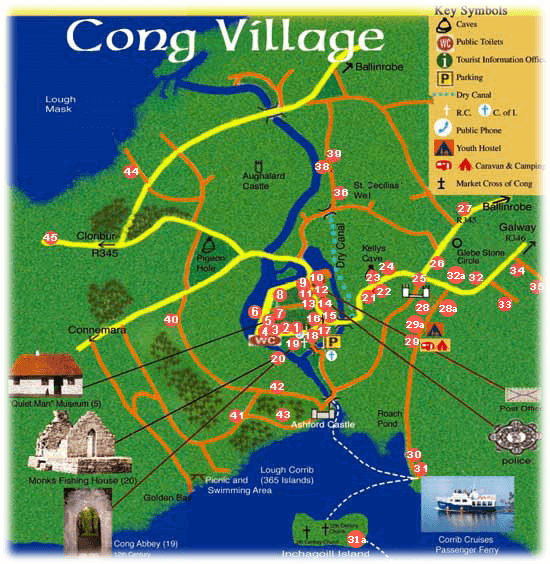 Cong (Irish: Conga, from Cúnga Fheichín meaning "Saint Feichin's narrows") is a village straddling the borders of County Galway and County Mayo, in Ireland.Cong is situated on an island formed by a number of streams that surround it on all sides. Cong is located on the isthmus connecting Loughs Corrib and Mask, near the towns of Ballinrobe and the villages of Clonbur, the Neale and Cross.
Cong is known for its underground streams that connect Lough Corrib with Lough Mask to the north
Cong was also the home of Sir William Wilde, historian and father to prominent playwright, novelist, poet, and short story writer Oscar Wilde.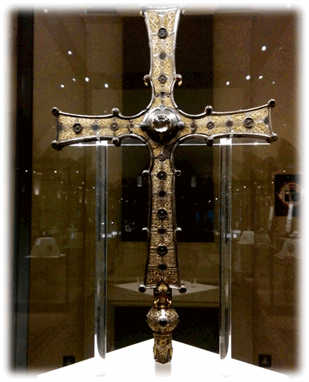 This magnificent piece of 12th century craftsmanship is regarded as one of the finest of its era. It is called the "Bacall Bui" (yellow crozier) and was commissioned by the king, Turlach O' Connor and was made in Roscommon in 1123.
Made of oak and standing 30 inches high with arms extending 19 inches, it is covered with silver and bronze plates washed with gold. Its edges were studded with precious stones and a large crystal in the centre covered the relic enshrined in the cross. The cross is richly decorated with designs of intricate interlacing and the carved heads of animals, even the nail heads used are shaped in the head of an animal, evidence of the Scandinavian influence in Irish art.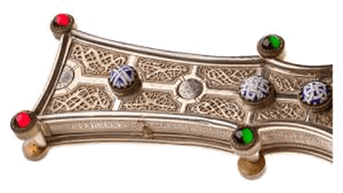 There are several inscriptions on the cross, one in Latin which was sent from Rome to Turlach, which reads, "the Cross on which the Creator of the world suffered was enshrined in the Bacall Bui".The Gaelic inscriptions ask for prayers for Turlach O' Connor, King of Eirinn, for two church dignitaries of the family of O' Duffy and for the Irish artist who created the cross, Maoiliosa O' Echan.
The cross was guarded by the Augustinians of Cong and was placed on the altar only on very special occasions. The 16th century brought persecution and hardship to the religious orders in Ireland and the Augustinians were forced to leave Cong. One abbot remained as the parish priest and this situation continued until 1829 when the last abbot died.
Dean Waldron was the successor and on taking over the Abbot's house he found several treasures hidden within. The Bacal Bui was among them, in 1839 the Dean sold the cross to the Royal Irish Academy for 100 guineas, this was not a popular act with the people of Cong.
His successor Fr Pat Lavelle was appointed in 1869, he was a well-known Fenian sympathiser and a rebel within the religious order. Fearless of repercussions he condemned the then leader of the Catholic Church, Cardinal Cullen and delivered many orations in favour of the patriotic cause. On his appointment as parish priest of Cong he travelled to Dublin and at The Royal Irish Academy asked to see the Bacall Bui. He snatched the cross and returned it to its rightful place, Cong. It has since been transferred to the National Museum in Dublin where it is kept with other national treasures.
In 1951 John Ford's greatest movie "The Quiet Man" starring John Wayne, Maureen O'Hara and Barry Fitzgerald was made. It was set in the beautiful west of Ireland with filming being centred in the village of Cong on the Mayo-Galway border.
Quiet Man Cottage Museum
Quiet Man Cottage Museum is a novel concept which will give the visitor a total Quiet Man experience as if they were actually 'on-set'. Located by the river at Circular Road, Cong, between actual locations used for the filming, the ground floor of the cottage has been designed as an exact replica of 'White-o-Mornin' Cottage.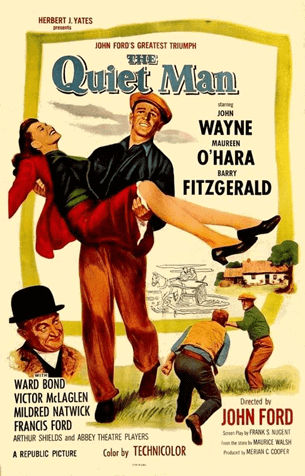 Painstaking effort has ensured that all the furnishings, artefacts, costumes etc are authentic reproductions. The four poster bed and the tables and chairs which 'Mary Kate' cherished, the thatched roof, emerald green half door and white washed front combine to charm all those who visit it."Quiet Man Cottage Museum" is a must for any Quiet Man enthusiasts, or even those wishing to visit a typical Irish cottage of the 1920's.
Experience for yourself this unique journey into the past and visit the Quiet Man Bridge which is located 5 miles past Oughterard, on the N59 heading west. Take a photo of yourself and feel like John Wayne in 1950'.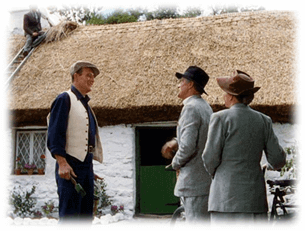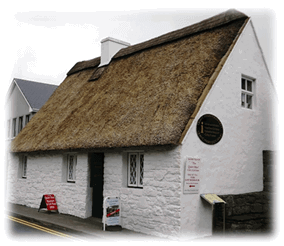 Quiet Man Bridge is a very popular local attraction. Tourists come from all over the world to visit this place. Some have also been known to take small pieces of stone from the bridge. The Quiet Man is regarded as one of the top 100 films ever made.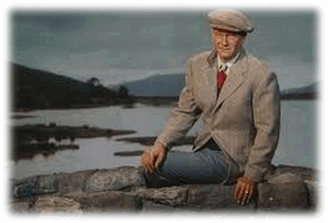 The Royal Augustin Abbey of Cong Founded in 623AD by St. Feichin as a monastery this site was then chosen by Turlough Mor O Connor, High King of Connacht and of Ireland, as the Royal Augustinian Abbey of Cong which was built in 1120AD for the Canons Regular of the Order of St. Augustine.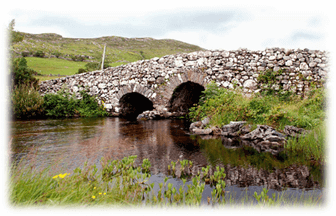 Cong is one of the finest examples of early architecture in Ireland. Examples of the wonderful craftsmanship is still very much in evidence today with the Abbey's Gothic windows, Romanesque doors and windows, clustered pillars, arches, standing columns and floral capitals.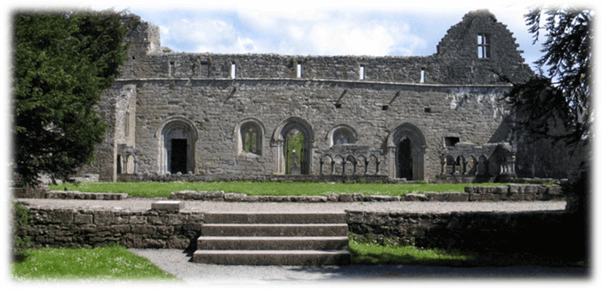 Three thousand coenobites resided within its walls and cloisters. The Abbotts themselves were excellent scholars in History, Poetry, Music, Sculpture and the illumination of books.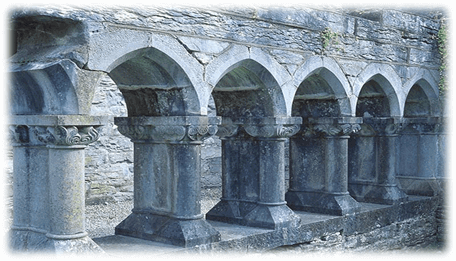 They were also skilled craftsmen in metal work, engraving, inlaying and designing in bronze, gold, enamel, woodcarving and harp making. The Royal Abbey is one of Cong's most beautifully striking treasures. The Augustinian Abbey at Cong was founded in the early 12th century by Turlough O'Connor (High King of Ireland), was built on the site of a 6th century church associated with St. Feichín. It features some very fine examples of stone carvings, as well as a cloister.The Abbey, which was endowed and supported by royal families of this era, is considered to be one of the finest examples of early architecture in Ireland, and it was here that Rory O' Connor, last high King of Ireland died and was buried in 1198 though is remains were later moved to Clonmacnoise.
The Abbey was suppressed in the reign of Henry VIII of England in 1542. It then fell into ruins but was later restored in 1850's by the direction of Sir Benjamin Lee Guinness, former owner of Ashford Castle. The Abbey served many purposes including a hiding place for the O'Connor family, a hospital for the sick, shelter for the poor and starving as well as being a place of learning for thousands of scholars.
The Cong area (Counties Galway and Mayo) is a low-lying area with some spectacular karst development and where all of the drainage of the Lough Mask catchment discharges via underground routes.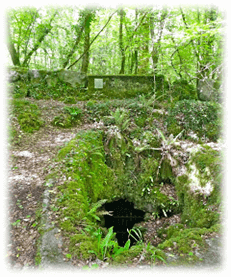 Reaching the limestone pools deep inside Kelly cave, outside the County Mayo town of Cong, is more self-propelled and non-commercial. You have to pick up a key from the Quiet Man Coffee Shop, in order to open the gate at the mouth of the cave.
Despite the modesty of Ireland's caving industry, potholing is an ancient and mysterious pastime. Cavers tell mythic stories of the two fairy trout still living in Pigeon Hole cave, also outside Cong. Another nearby cave is where centuries ago a madman stashed his victims' murdered bodies. Note that, with Ireland's prolific rainfall, caves can flood quickly and dangerously. The Speleological Union of Ireland can help provide guides or books and articles on caving techniques.
Lough Corrib is 42,000 acres in size and stretches in length from within 4 miles of Galway City to within 2 miles of Maum Bridge, a distance of 33 miles. The Lough is renowned for its wild brown trout and salmon fishing. Brown trout fishing is usually good from the first day of the season and the salmon fishing for grilse is best from around the end of May. Trout can be caught on wet fly from opening day, Feb. 15th.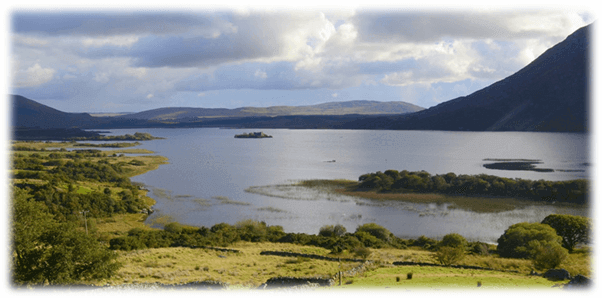 Each season, a number of specimen brown trout are caught on the lough, and the record stands at around 21.5lb, caught in September 2002. There are boats for hire at several locations around the lough, and boatmen are also available at most boat stations. Angling on Lough Corrib is free.Lough Mask is a large limestone lough of 22,000 acres in area and, along with Lough Corrib, is one of the best known brown trout fisheries in Ireland.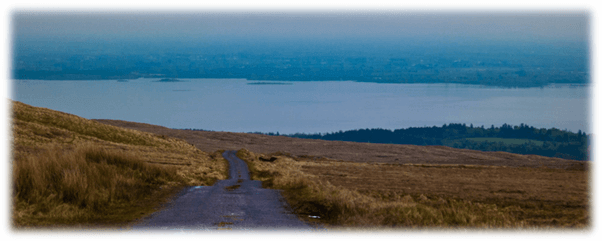 Lough Mask is famous for its large ferox trout and every season angler take a number of these great trout, mostly all over 10 lb and nearly always to trolled baits.