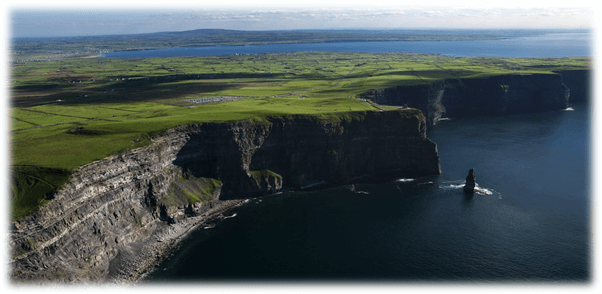 Embark on a journey you'll never forget to the Cliffs of Moher. Our tour guides are not only entertaining and resourceful but their alluring accents will only add to such a magical experience. Join us on this enchanting adventure to Ireland's flourishing west coast and then back again all within a day. During your travels, we will educate you on the various flora and fauna as well as the fascinating history that is based primarily on the Cliffs of Moher. While holidaying in Ireland, this impressive Cliffs of Moher day trip is an absolute must!
The Cliffs of Moher are situated on the West coast of Ireland in County Clare. They stretch for 8km and rise to 214m above sea level at their highest point. The stunning rock formations of the Cliffs of Moher are 300 million years old and are made of layers of sedimentary rock. Layers of sandstone, siltstone, mudstone and shale which are rich in fossils are the geological content of the Cliffs of Moher.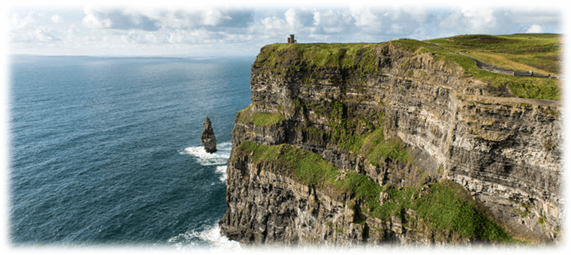 The Cliffs have been a tourist attraction dating back to 1835 when Cornelius O'Brien had the viewing tower built. He saw the beauty and uniqueness of this area as a way of bringing prosperity to the people. The views from O'Brien Tower are spectacular; on a clear day we can see as far as Loop Head in one direction and the Twelve Bens in Connemara in the other. Looking out across the ocean, you can see the three Aran Islands. It is a natural wonder that rewards visitors with breath taking views of the edge of Ireland's west coast, the ruggedly beautiful cliffs and the mighty ocean below.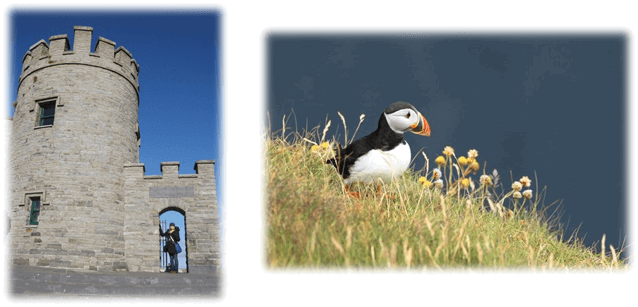 The Cliffs of Moher is home to a variety of wildlife but the most visible is the array of cliff nesting sea birds. From April to July it is home to twenty different species of birds with over 30,000 nesting pairs along the cliffs. The cliffs were designated a special protection area for birds in 1986. This protected area covers a 200-meter zone of open water to protect the feeding ground of the nesting birds.
Doolin
Doolin is situated 8km from the famous cliffs of Moher, 6km from Lisdoonvarna spa town, 50km from Shannon Airport and 70km from Galway City on the west coast of Ireland.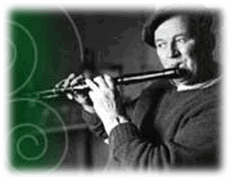 Doolin is renowned world-wide as the traditional music capital of Ireland. One of Doolin's most famous sons was Micho Russell, a world-reknown whistle player. His contribution to Irish music is celebrated with a weekend of traditional music The Russell Memorial Weekend is a traditional festival held in Doolin on the the last full weekend in February each year.
Doolin restaurants offer fine foods with local seafood a specialty. Our world famous pubs feature traditional music sessions nightly and also serve tasty pub food.
Home to thousands of international visitors each year, Doolin is many things to many people. For some it is a place to experience rousing music sessions nightly in the pub and for others it is a place of solitude and tranquility where one can refresh their spirits away from the everyday hustle and bustle of life.
Burren
The Burren is an area of karst landscape in Co Clare. It covers an area of 250 square kilometers. An area of the Burren (15 square km) is designated a national park with a visitor center in the village of Crofin. This is the smallest national park in Ireland.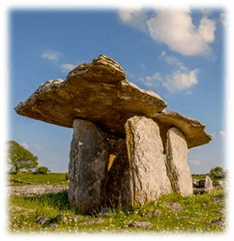 The Burren is home to many ancient tombs with over ninety megalithic tombs in the area including the most photographed portal tomb Poulnabrone dolmen. It is also home to ringforts including the impressive triple ring fort Cahercommaun and Caherconnell stone fort.
There is a fine Celtic high cross in Kilfanore and Corcomroe Abbey is one of the most ornate abbeys in Ireland.
The Burren landscape is composed of limestone slabs with clints and cracks in the rock. Surprisingly, fertile soil has built up in these cracks and created the perfect place for plants to take root. The micro climate at the Burren where the soil temperature rarely drops below six degrees supports an unusual array of flowers and plants with Arctic, Mediterranean and Alpine plants growing side by side.
Seventy five percent of Ireland's species of flower can be found in the Burren with certain species being exclusive to this area.
See if you can find the elusive spring gentian – an Alpine plant bright blue in colour. There are also a number of orchids particular to this area in Ireland. The rugged rocky landscape and bright bursts of colour of flowers growing through the cracks is a stunning and unique contrast. There is much to discover in Ireland and this tour can help you see some of Ireland's most picturesque locations.
Corcomroe Abbey
Corcomroe Abbey is one of the best known abbeys in Ireland. It is situated in a remote part of county Clare in the Burren region. The Abbey was founded in in 1195 by Donal Mór Ua Briain (Donald O'Brien). Legend has it that O'Brien had all the stonemasons who worked on the abbey put to death after completion so that no other abbey like it could be built.
The Abbey is known for its intricate carvings, exquisite stonework and remote location. The location gives an insight into the life of the monks; they sought out remote locations where they lived a largely self sufficient life. Other monastic settlements in remote locations can be seen on Skellig Michael and Inishmurray in Co Sligo.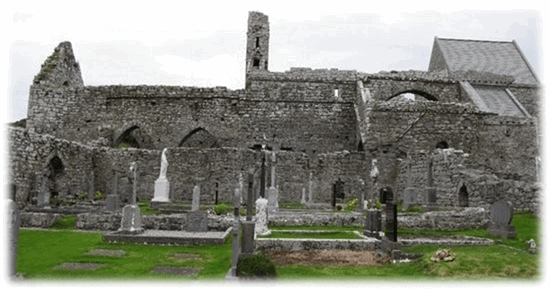 The abbey was built in a crucifix form with a chapel in each transept. There is no roof on most of the Abbey but the entry arches are still intact with some fine stone carvings. The stonework in the Choir is particularly good with fabulous rib vaulting in the roof.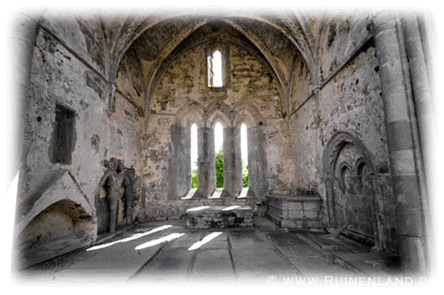 There are many more interesting carvings throughout the building of faces, dragons and floral designs. The north wall of the choir has an effigy of King Conor. This is one of the few remaining effigies of an Irish lord, The effigy depicts Conor wearing a Crown decorated with Fleur de Lys, holding a scepter in his left hand. His head is raised on a stone cushion and he is wearing pleated robes. He died in battle nearby and was laid to rest here in 1268.
Kinvara
Kinvara is a quaint port town on the West coast of Ireland. The village lies at the head of Kinvara Bay known in Irish as Cinn Mhara (or more recently Cuan Chinn Mhara) from which the village took its name. This is an inlet in the south-eastern corner of Galway Bay.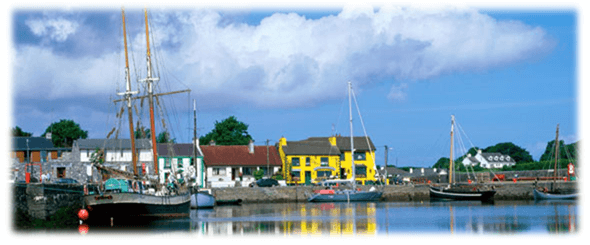 You can enjoy spectacular views of Galway Bay and Dunguaire Castle. The castle dates back to the 16th century and is an impressive and well preserved site. Explore the colourful shops along the harbour and see Dungaire Castle.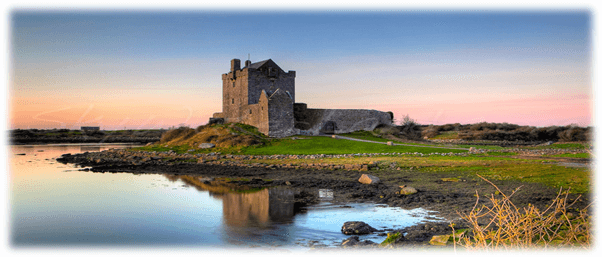 Discover local history and legends while taking in the stunning scenery. This Cliffs of Moher tour is packed with locations that will be sure to please and is a must for anyone visiting Ireland!